What is a Super Manetron?

Warning: Illegal string offset 'class' in /home/insideoutjapan/www/wp-content/themes/wp_informati5-v1.2.1/panel/snippets/featured_image_single.php on line 36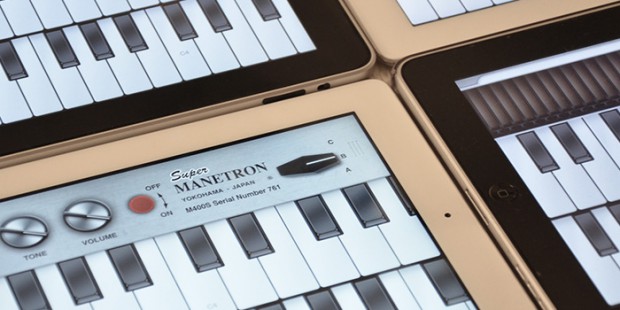 Super Manetron is the vintage tape sampling keyboard for iPhone/iPad/iPod touch. Genuine sound sampled from the most famous white body tape sampling keyboard model number of M400S (serial number 761) manufactured in the 70's. You can see an internal mechanism (tape running animation) and can enjoy with eyes and an ear. Feel the live experience the motor noise and inner mechanical sounds were recorded.
Features:
– Core MIDI compatible
– 35Kyes of sampled sounds from the M400S serial number 761 manufactured in the 70's.
– 8 sec PCM full sampling sounds each Key
– Scrollable Keyboard & dual Keyboards with switchable key width
– No loop sounds (real performance feeling)
– Pre-loaded with 7 instruments including Flute, 3violins (Strings), Cello, Oboe, 8-voice Choir, Vibes, Brass
– 7 instrument sounds can be set as the favorite position of A,B,C position on setting screen
– A+B, B+C mix sounds position
– The sound of motor and tape rewind mechanical noise
– Tape running animation
– Pitch control by accelerometer
– Built-in Reverb that simulates spring reverb
– Original sounds source are recorded by 96KHz/24 bits
– Compiled under the supervision of Fumitaka Anzai (Famous vintage keyboard player & collector of Japan)