What is a Pocket Organ C3B3

Warning: Illegal string offset 'class' in /home/insideoutjapan/www/wp-content/themes/wp_informati5-v1.2.1/panel/snippets/featured_image_single.php on line 36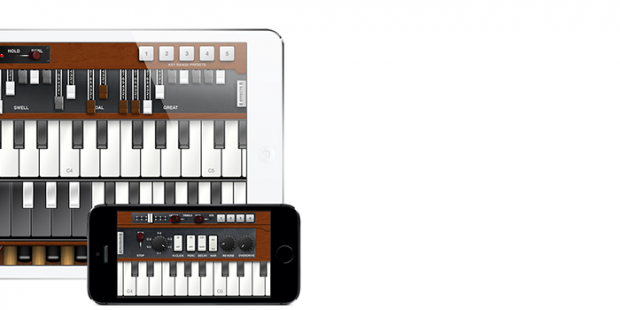 Pocket Organ C3B3 is a musical keyboard application for iPhone/iPod touch that simulates the Hammond Organ. The sound is generated with the synthesis of the waveforms from "Virtual Tonewheel System" controlled by 9 drawbars like the actual Hammond Organ. You will be surprised at the real sound generated from this App! Pocket Organ C3B3 is a Hammond Organ in your pocket.
Pocket Organ C3B3 has a rotary speaker effect like the Leslie speaker, which adds amazing realistic character and spatial depth on your organ playing. This effect can be changed to Fast (Tremolo), Slow (Chorale), or even Off (brakes). Visit our website to listen to the realistic and authentic sound!
Features:
– Pocket Organ C3B3 is programmed by Shinya Kasatani, the creator of best selling iPhone App "PocketGuitar" and is designed by Junichiro Yamasaki of "Manetron (Mellotron App)".
– Authentic emulated sounds generated from "Virtual Tonewheel System" mixed by sliding 9 drawbars
– 61key + 61key, 5-octave Dual Keyboards with switchable key width (only for iPone/iPod touch, 8 white keys or 10 white keys on screen)
– Scrollable Keyboard that can be configured to your own octave key range on screen with 4 preset buttons
– Key transpose function (You can play a music of any key in the key of C)
– Rotary Speaker effect can be changed to Fast (Tremolo), Slow (Chorale), or even Off (brakes).
– Harmonic Percussion effect with adjustable decay, 2nd and 3rd harmonic
– Keyclick noise effect
– Built-in Reverb that simulates spring reverb
– Overdrive effects
– Scanner vibrato & chorus
– Shake your iPhone to play spring shock (reverb crash) effect like Jon Lord (keyboard player of Deep Purple) or Keith Emerson (a member of the Emerson, Lake & Palmer, ELP).
– iPhone's built-in accelerometer gives you amazing glissando effect control.
– 20 Factory Presets containing typical settings used by Rock, Jazz or Gospel Sounds
– You can add the User Memory Bank that allows you to store your own 20 patches (drawbars & effects settings) & Preset Packages with In App Purchase.